Installing a new septic system for your home can be a confusing prospect, especially if you're new to the idea of septic systems. That's why the septic tank specialists at B&B Pumping in Azle have assembled this quick list of things to keep in mind when installing a septic system.
Constructions Costs
Installing a new septic system is more complicated than just setting up a large barrel in your backyard. You'll need to consider the costs of digging out a portion of your yard big enough to house a septic tank that's size appropriately for your home and your predicted usage. The size and scope of the digging project may influence how much you pay. You'll also have to consider which type of tank you'll use, as there are a variety of different types of tanks made from different materials. Some materials cost more than others, and the size of the tank also impacts the cost. You may need to apply for a permit, and pay the city or county for the approval to dig in the first place.
What Material Is Right For You?
The first septic tanks were made from stone. Today, they're made from materials like concrete, steel, and fiberglass. Each comes with their own pros and cons. Concrete tanks are the most common because they are cost-effective and easy to install. However, they are prone to cracks, so they must be inspected regularly. Steel tanks are the least common. They rust easily but can be replaced very quickly, making them a viable option for some. Fiberglass and plastic tanks resist cracks and rust, but they shift in the soil easily because they weigh less than the other options. It's important to have your fiberglass tank inspected frequently to ensure it isn't settling.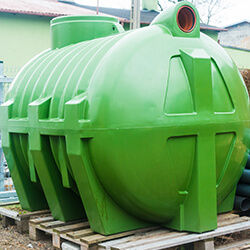 Do You Have Enough Space?
Perhaps before you even begin thinking about which kind of tank to get, you should think about if you have enough space on your property to properly install and bury a septic tank system. Many septic systems require a large quantity of space. This makes them difficult to install in properties that are on small parcels of land. While newer, more modern systems can do more with less space, the reality is that you'll be limited on the size of your system based on the size of your property.
Regular Maintenance
Using a septic tank system isn't an "out of sight, out of mind" kind of situation. Your septic tank needs regular maintenance, just like your car or electrical work. Depending on the usage of your system, to ensure proper functioning of your septic tank, your system should be pumped every three to five years. This will keep your septic tank system functioning smoothly for many years.
If you're in need of septic system service in Azle, be sure to contact B&B Pumping. We're a leading septic tank service provider and have been serving our community for decades. Our technicians are happy to carry out regular maintenance and cleaning quickly and efficiently. With years of experience, we're happy to address any questions or concerns you may have about your septic tank system. Call B&B Pumping today to schedule your regular septic tank maintenance.