Your Septic Cleaning and Pumping Specialists
Commercial Septic Tank Pumping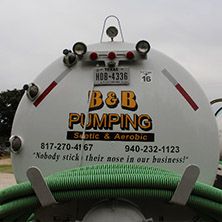 Finding a reliable company for commercial septic pumping just got easier! B & B Pumping had been serving the septic pumping needs of Fort Worth, Haslet, Azle and Decatur for more than half a century. We have seen changes in septic technology and are able to accommodate almost any size system.
Personalized Service
Generally, when a commercial septic system needs maintenance, it is not something that can wait until the following month to complete. At B & B Pumping, we understand that commercial systems may need more comprehensive care.
The Commercial Septic System
Let's face it, commercial systems take much more abuse than residential septic systems and require a different approach to pumping. Let's say that you operate a campground and it is not uncommon to see over a hundred people a day moving in and out of the facility. That sort of pressure can put a large strain on your septic system and timely maintenance is critical. The septic pumping experts at B & B are ready and able to help when your commercial septic system needs attention. Whether it is a vault, a lift station, or a traditional septic tank, we can pump it.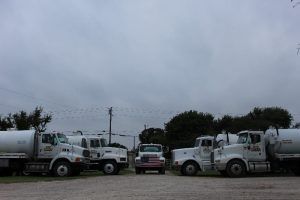 Industrial Strength Service
The last thing you need is a septic company that claims to be able to accommodate commercial pumping, only to arrive with equipment suited for residential systems. B & B Pumping is fully licensed and certified to perform commercial septic tank pumping. Not only do we work incredibly hard to ensure that our customers have an incredible, stress free experience, we also strive to do every job right the first time. So if you have an industrial sized septic system, B & B Pumping is proud to offer industrial strength service. Please contact us today for more information about our commercial septic system maintenance. We look forward to hearing from you and thank you for your business.