Let Us Take Care of Your Septic Tank
On a day-to-day basis, you probably don't spend much time thinking about your septic tank. That's because, for the most part, the system works fairly consistently and with few hassles. But with time and use, you might see more and more small issues which quickly add up to become a big problem. But the reality is, a well-maintained septic tank system offers a variety of advantages to you, your home, and your family.
The Benefits of Septic Tank Cleaning and Maintenance
Increase performance and effectiveness: Regular maintenance ensures that your drains flow freely, and you never have to worry about sewage backups.
You keep costs low: Just like you invest in preventative maintenance for your car, having your septic tank inspected regularly helps to limit costs by preventing major problems.
Care for your property and your family: Don't let harmful waste seep out of your tank and into your yard.
Say goodbye to odors: Regularly emptying and maintaining your septic tank keeps it from overfilling and permeating your home with a smelly miasma.
Increase the value of your property: A well-maintained septic system is a major selling point for any property. You'll find that with regular maintenance, the value of your home increases.
Trust Your Local Septic System Professionals!
Don't trust your septic system to just anyone! Call the professionals who know how to get the job done right.
At B & B Pumping, we are fast, friendly and always professional. We have been servicing septic systems for many years and our experience will help us answer any questions or address any concerns you may have. We specialize in aerobic and conventional pumping, as well as cleaning lift stations. Our goal is to make sure you are satisfied with our work. B & B Pumping is fully licensed and we serve both residential and commercial customers.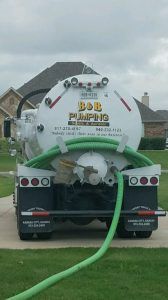 The B & B Pumping Difference
When you need your septic tank serviced it is generally a critical situation, unless of course you want a flooded backyard. B & B does our best to get to your call on the same day when reasonable. We truly care about our customers and consider them family.
Since 1958, B&B Pumping has been serving communities across Texas with superior septic tank services. We offer our septic tank services to the greater Fort Worth area, including Weatherford, Azle, Decauter, and Haslet — feel free to take a look at our service area. We specialize in both aerobic and conventional tank systems and heavy equipment and know-how to access and maintain any residential septic tank system. To ensure the best performance, we work with you every three to five years to have your tank totally cleaned and pumped. Together, we can keep your system functioning as it should.